Stay qualified and certified with our nationally recognised courses delivered by experts online and onsite at our training facility. Enrol through our Shop now!
Management Advantage Course on Solar PV Project Development & Quality Management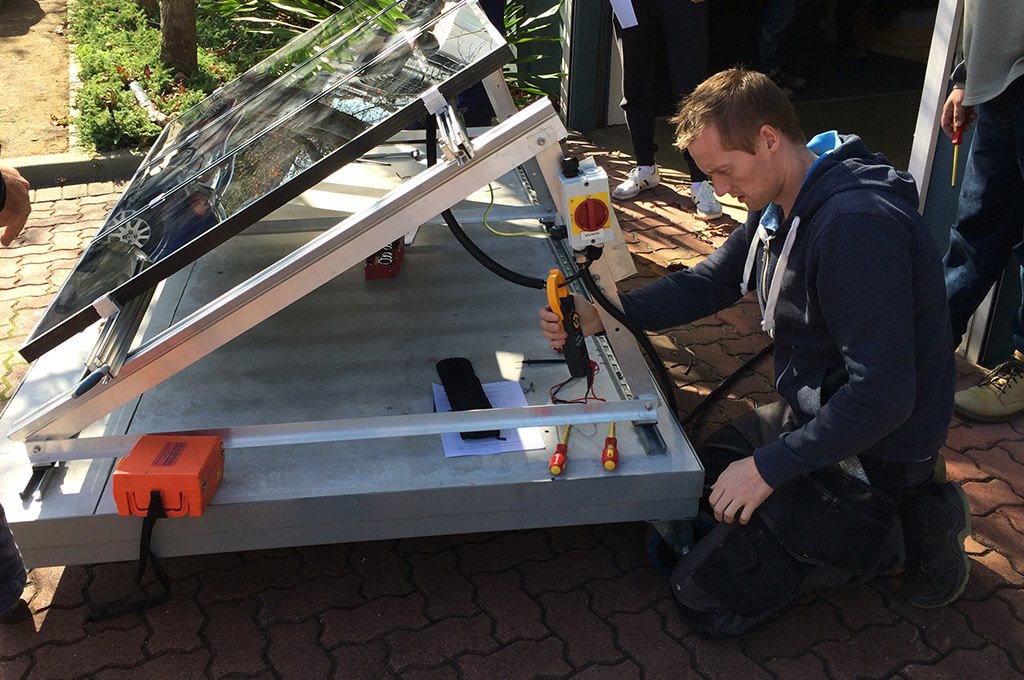 GSES India conducts online interactive training sessions on Renewable Energy Project Management (REPM) for start-ups, entrepreneurs and managers of project developers, implementing agencies and EPC companies. Course focus is on solar power projects development and quality management.  
The participants will gain knowledge and will have the opportunity to interact with highly experienced renewable energy project managers and experts on site assessment and planning, feasibility study and detailed project report preparation, design and installation best practices, PV system performance modelling and energy yield assessment, documentation as per IEC standard, inspection procedure and quality assurance,  O&M planning, bid preparation and contract management. Course covers both rooftop and ground mounted MW scale PV power projects.
| SN | Session Topic | Duration |
| --- | --- | --- |
| | Solar PV project development phases and quality management | |
| | Rooftop PV project site assessments & planning | |
| | Ground mounted PV project site assessments & planning | |
| | Detailed feasibility study of PV power projects | |
| | PV systems design and installation best practices | |
| | PV systems performance modelling and energy generation estimation | |
| | PV system documentation requirements | |
| | PV system inspection procedure for quality assurance | |
| | Operation and Maintenance planning for PV power projects | |
| | Bidding process and contract management of PV power projects | |
Start-ups, entrepreneurs, engineers, project managers and officers from project developers, implementing agencies and EPC companies involved in development of solar power projects.
The course will be delivered in lecture format using Power Point Presentations, sharing of case examples, assessment exercise and quizzes. The course will be conducted through Moodle e-Learning Platform with two sessions of two and half hours each. At the end of each session, there will be an assessment quiz where the participant can apply the knowledge that they have learnt in the session and also interact with the trainer to discuss and clarify any queries they may have.
Copies of GSES sample reports, drawings, bid documents, BoM and contract agreement for solar power projects.  
Copies of power point presentations 
GSES excel based template for energy yield estimation
Financial model template
Site survey checklist
PV system documentation checklist
PV system inspection checklist  
GSES develop and deliver solar PV training courses in accordance with international competency standards and accreditation requirements.  On successful completion of the course students receive a certificate of completion.
The participants with prior experience in solar project development have the option to attend all the sessions as outlined above or a few selected sessions as per their interest, except session 1 which is mandatory. Training support materials and certification will be issued according to the sessions opted for. Fee for the course will be proportionate to the sessions attended. 
Global Sustainable Energy Solutions (GSES) is an Australian-based multi-disciplinary organisation specialising in professional services and training across the Renewable Energies sector and comprises a team of highly experienced systems engineers, designers and installers and accredited trainers. GSES is a Registered Training Organisation (RTO) in Australia, responsible for development and delivery of Solar PV accreditation training with international competency standards. 
GSES Principal trainers have over 25 years of experience in renewable energy planning; engineering design; tender preparation and evaluation; techno-commercial due diligence and project implementation.  Our trainers have authored and co-authored several books and training manuals on solar PV system design installation, maintenance and inspection.  Selected publications of our principal trainers are –
Grid Connected PV System Design and Installation
Standalone Photovoltaic Design & Installation
Solar PV System Inspection and Evaluation
Training manuals for solar PV technicians
Grid connected PV systems with battery storage
Solar Entrepreneurs Handbook
To know more about GSES principal trainers please click here
Early Bird registration (limited to first 5 registration): 20% on training fee
Group (3+) registration: 30% on training fee
Student and female participants: 50% on training fee  (limited to 5 participants on first come first serve basis).
Discount is available for the participants who choose to attend all the sessions. 
For Further Information Contact:
GSES India Sustainable Energy Pvt. Ltd.,
A – 46, UG Floor, FIEE Complex, Okhla Industrial Area Phase 2
New Delhi – 110020, India
Phone: +91-11- 41040534
Mobile: +919560550077 / +91 9560550075/ +91 8757366099
e-mail: training@gses.in
Training Date and Location